Ms. Stokes (914)457-4654     Mrs. Gooden (914)400-6302  
SEPTEMBER 2022
August 29, 2022
 
Dear Parent / Guardian:
 
Thank you for choosing Oakview Preparatory School as the institution for your child's learning. I do hope that you are doing well.  I am praying for you every day. Please pray for the school as we continue to face challenges during this pandemic.
 
Enclosed are some guidelines we will continue to follow as we start school on Monday, August 29, 2022. Please understand that these guidelines are preventative and necessary for the welfare of all of us.
There will be a short supervision period every morning in the cafeteria or the gymnasium from 8:00 a.m. to 8:10am. After 8:10 all students need to go directly to their classrooms once they enter the building. Students and parents' temperatures will be taken. We know that currently wearing a mask is optional. However, if your child has cold symptoms or is coughing, please send him/her to school with a mask in order to reduce proliferation. Please be aware that there are also students, staff, and teachers with underlying conditions in the building.
 
Based on the recommendation from the Superintendent of Schools, all students need to be tested before they return to school. Please send the result to this office once it is available to you. All students need to bring their hand sanitizers and wipes inside their book bags.  They also need to have their names on their belongings.
 
Please avoid the last-minute registration as has happened in the past.  We would like to avoid the long line on August 29. Please be aware that the Parent/Teacher Curriculum Meeting will be on Thursday, September 8 from 10:00 a.m. to 6:00 p.m. This is a compulsory meeting. The sessions will be 15 to 20 minutes long. This is also why we are sharing all this information with you ahead of time. Please be present.  The more you are involved in your child's education, the better your child will perform in school. You need to know the Curriculum and the expectations for the year.
 
If your child is sick or has a high temperature, please do not send them to school because once we take the temperature either on the bus or at school we will have to call you to pick up your child from school.
 
Please make sure to take five (5) to seven (7) minutes to read the information we will send you via Jupiter, Mailchimp, or on the school website. These are our major modes of communication.
 
The date for the apple picking trip has been postponed to Thursday, Oct 6. We are working on the details. We are facing two challenges: 1) The increase in cost for the apple bags by 17% compared to what we used to pay. 2) The increase of the cost to rent yellow busses for transportation. Once this is finalized, we will send you the permission slip. We will also send you a Clemente fundraising packet to sell to your friends.
 
This year the music program will be back in session on Wednesdays starting on September 28. Please consider which instrument you would like your child to play. We will offer 6 instruments: keyboard, guitar, saxophone, violin, recorder, and ukulele. Classes will run from 10:30 a.m. to 2:30 p.m. The music teacher is not able to stay after school this year. Please fill out the form and return it by Sept. 15 so that we can work out the music schedule for the students.
 Thank you very much for your understanding and collaboration. We need to keep the standards high for the benefit of all.
 
J. Eric Imbert, Principal
Lunch Menu
SEPTEMBER 2022
LUNCH MENU forthcoming.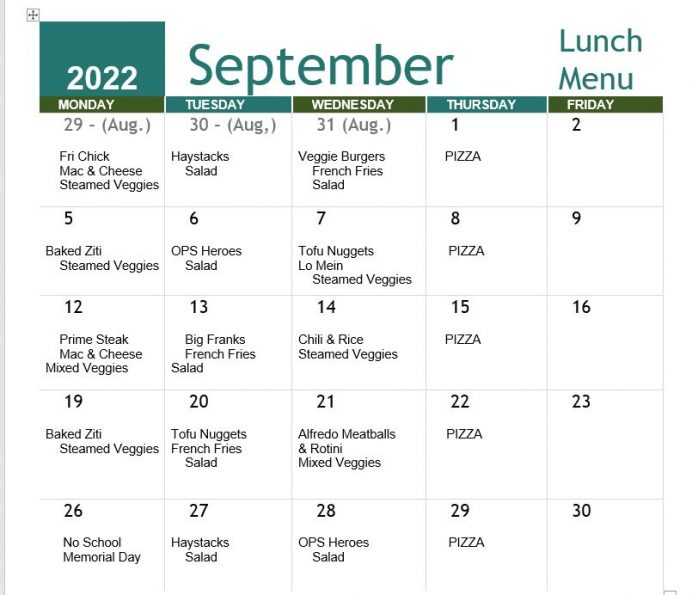 Please be aware that the price of a bottle of water has been increased to $1.00. All other prices remain the same:
PreK to Grade 3
unch - $4
Grade 4 to Grade 8
Lunch - $5
Snacks - $0.50 - $1.00
Water - $1.00
Fruit - $1.00
Pizza - $3.00/slice  Salad Pizza - $5.00/slice