Ms. Stokes (914)457-4654     Mrs. Gooden (914)400-6302  
MAY 1, 2023
Dear Parent / Guardian: 
 
Thank you for your help and cooperation as we are nearing the end of another wonderful school year.  This is to inform you about upcoming events during the last two months of school, and to share information for the 2023 -2024 school year. 

1.   Many parents have not yet submitted in the tuition owed. Currently we have more than $50,000 in uncollected funds. We are asking parents to make a sacrifice as you received your Income tax money. Please use the money to pay off tuition because we cannot function without these funds. We need to pay our creditors.
2.   May 2- 4, grades 3-8 Math State Assessment. Please make sure that your child has a good night rest and proper breakfast before coming to school.
3.  Tuesday, May 2, last Home and School meeting at 6:30p.m. through zoom
Meeting ID: 840.0051.3358 Passcode: 885029
4.  Tuesday, May 16, Career Day. Please come and volunteer your time. Junior Olympics is cancelled due to the inability of the conference to secure the park.
5.  May 15 -18, MAP test of Basic Skills
6.  Please note that Kindergarten graduation is scheduled for Thursday, June 8, at 9:00 a.m. School will dismiss at 12:30 p.m. on that day. The first part of the Grade 8 graduation will be on the same day at 6:00 pm. sharp and the school will be closed on Friday, June 9. 
7.  Final exams will start May 31 - June 7 for Grades 3 - 8, and May 24 - June 7 for Grade 8 only. The exams will only be in the Core subjects. The students will receive the components that will be part of the exam. Those who received an "A" for the last three marking periods in a particular subject are exempt from the final exam in that subject. Please keep track of your child. Remember the more you are involved in your child's education, the better your child will perform in school.

8.    Registration is open for all who want to stop by the office to fill out a form for next year. The form will be sent home on May 31 or June 1st_ Kindly return it by June 15, 2023. Please be aware that the tuition has increased. The finance committee has no choice due to inflation. (Enclosed is the Financial information for the next school year).

9.    We want to share with you the hours of operation for the next school year.
a)    The school will reopen on Monday, August 28, 2023. The hours will be 8:15 a.m. to 3:00p.m. However we have made accommodation for early drop off at 7:00 a.m. There will be no after school care up to September 15, 2023 because we cannot afford it.
b)    By Monday, September 18 through Thursday, the hours will be 7:00am (early drop off) to 5:00 p.m. which will be 1 0hrs per day between Mondays through Thursdays. The children will have access to Catapult just as they do now. There will also be additional math help only on Tuesdays and Wednesdays from 3:00 p.m. to 5:00 p.m. with 30 minutes recess. This academic help will be available for all who need it. 
c.    On Fridays school will be in-person from 8:15 a.m. to 12:30 p.m.
10. Those of you, who would like your child to come to summer school for enrichment or remedial help please call the office so that Ms. Stokes can add your child's name to the summer school registration list.
Thank you for your understanding and cooperation in these matters. 
Yours truly,
____________________
Jean Eric Imbert, Principal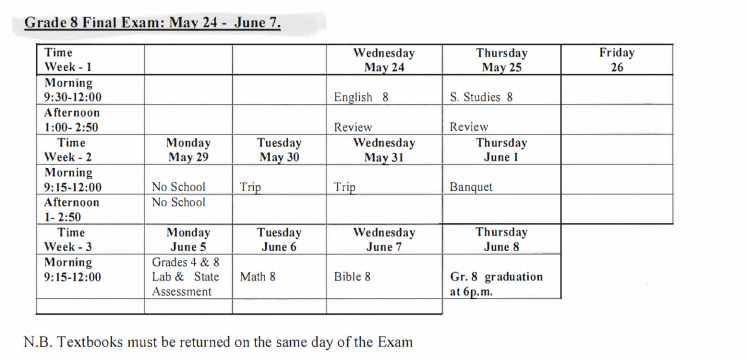 Lunch Menu
LUNCH MENU forthcoming.
2023

       MAY

Lunch

Menu

TUESDAY

WEDNESDAY

THURSDAY

FRIDAY

 

1

2

3

4

5

 

Swiss Steak

Mac & Cheese

Mixed Veggies

 

    Veggie Burger

    French Fries

    Salad

 

    Tofu Nuggets

    Lo Mein

    Sir Fried Veggies

 

    PIZZA

   

 

    

8

9

10

11

12

 

 Baked Ziti

 Mixed Veggies

 

 

     OPS Heroes

     Salad

 

    Grillers &

    Spaghetti

    Steamed Veggies

 

PIZZA

 

   

15

16

17

18

19

 

Links Onions & Peppers

Mac & Cheese

Steamed Veggies

 

    Haystacks

    Salad

 

 

    Tofu Nuggets

    French Fries

    Salad

 

     PIZZA

 

22

23

24

25

28

 

 Baked Ziti

 Mixed Veggies

 

    Big Franks

    French Fries

    Salad

 

  Tender Rounds &

  Spaghetti

  Steamed Veggies

 

 PIZZA

 

 

 

29

30

31

June 1

June 2

NO SCHOOL

 

    Haystacks

    Salad

 

 

 Fri-Pats &

 Spaghetti

 Steamed Veggies

 

PIZZA

 

 

 

 

 

 

 

 
Please be aware that the price of a bottle of water has been increased to $1.00. All other prices remain the same:
PreK to Grade 3
lunch - $4
Grade 4 to Grade 8
Lunch - $5
Snacks - $0.50 - $1.00
Water - $1.00
Fruit - $1.00
Pizza - $3.00/slice  Salad Pizza - $5.00/slice