Teacher: Ms. M. Mbugua
Welcome to 7th Grade.
GRADE  7
I am excited to be here at the Oakview Preparatory School of Seventh-day Adventists. I enjoy working with children, and I believe every child is intelligent, creative, and talented.
My aim is to guide each student to utilize his/ her full potential.  I have faith that every student "can do all things through Christ who strengthens" (Philippians 4:13 NKJV).
In Grades 5 - 8 students will utilize Chrome Books only which will be provided by the school.  
CLASS SCHEDULE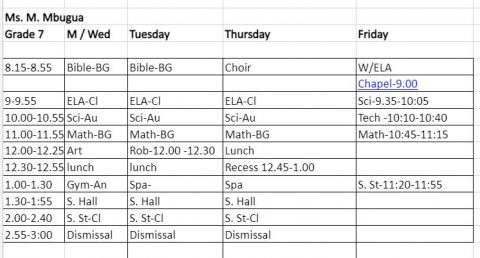 NB:  As necessary all students are required to have a printer and technology device i.e. Tablet or Desktop Computer